---
Identifying Community Needs Removes Barriers to Learning
Hunger is uncomfortable to experience. It can make a hectic workday even more challenging, a long road trip seem longer, and a household of hungry mouths to feed more chaotic. When bellies are full, we smile more. Discomfort is extinguished, and we focus on the tasks in front of us much more easily. But what happens when the discomfort of hunger cannot easily be extinguished; when sources are scarce, and nutritious meals are hard to come by? Identifying those who exhibit the direst of community needs has never been more crucial than during this year of such uncertainty. However, we've found individuals within our own organization who have not backed down in the face of turmoil and found a way to be sure the light of hope burns brightly.
School-based pantries have helped to alleviate hunger in many communities, providing a more dependable source of food for hungry students. It could be during a long holiday weekend, early morning, late afternoon, or extended time away from the classroom, especially during a world pandemic. The numbers of students dependent on a meal from a school-based pantry are staggering. According to Feeding America, "18 million children — one in every four kids — may not know where they will get their next meal."
Problem-Solvers in Action
WoodmenLife is called to support this type of lifeline for families facing food insecurity. Through our Leadership Partnership with Feeding America and our National Community Focus to fight hunger, the needs of impacted children are being recognized. When lack of food once hindered growth and learning, real-life problem-solvers are providing a solution to community needs. They're also building a deep trust with parents, students, and community leaders to fulfill our share commitments.
A WoodmenLife chapter in Oklahoma has been a driving force in supporting the fight against hunger. They've long partnered with the local schools in Wewoka to operate a food pantry available to all students and a backpack program for weekend meals. Now, they're doing even more. They've expanded the services to include a clothing pantry, and laundry and shower facilities. And to further the positive impact on community needs, all citizens can use the facilities as well.
Spotting Community Needs, Offering Help
Nikki Azlin, Program Monitor at Wewoka Public Schools Co-op Head Start, has been a key player in the implementation and success of the pantry. Upwards of 75% of students there face food insecurity, and she says it's noticeable if a student is struggling with learning due to hunger or a lack of sanitary resources. "They can't learn if they are not clean. Or they may smell. They are not comfortable in class." As the access has increased, Azlin has witnessed first-hand the students' confidence levels rising through the use of the pantry. "Then they are happy and safe."
News stations have interviewed the volunteers to document their inspiring story of identifying community needs. Some volunteers, like WoodmenLife Sales Representative Kris Calvert, stay in close contact with Azlin and school Superintendent Shellie Gammill, to replenish any supplies that may be getting low. Calvert also handles much of the social media outreach for the pantry and word-of-mouth advertising. According to Calvert, many high school students volunteer to help out at the pantry as well. Then these students have first-hand access to supplies they may have otherwise been too embarrassed to seek.
Unmet Needs Fulfilled
A few states away, another chapter has been hard at work nourishing lives at Holmes Community College's Grenada campus. The "Bulldog Bags" pantry, named after the schools' mascot, was created in October 2018, thanks to help from WoodmenLife and the school administration. After reading a newspaper article about college students suffering from a lack of food, members went to work.
"Hunger hides in all kinds of places, and hunger has all kinds of faces. And, sad to say, it is here to stay," says Sherry Felker, a WoodmenLife member and treasurer of Chapter 15 in Grenada, GA. Cynthia Abel oversees the food pantry. Through the help of the local Phi Theta Kappa Honor Society, the pantry has provided relief and support to many. Felker affectionately calls them the "true boots on the ground."
Continued Sherry, "Many of today's college students are unlike the typical student of yesteryear, only having to go to classes and keep their grades up. Today, students may be working as well as attending classes. They may have housing expenses, be married, have children or other family to attend to, have transportation worries. The list goes on and on."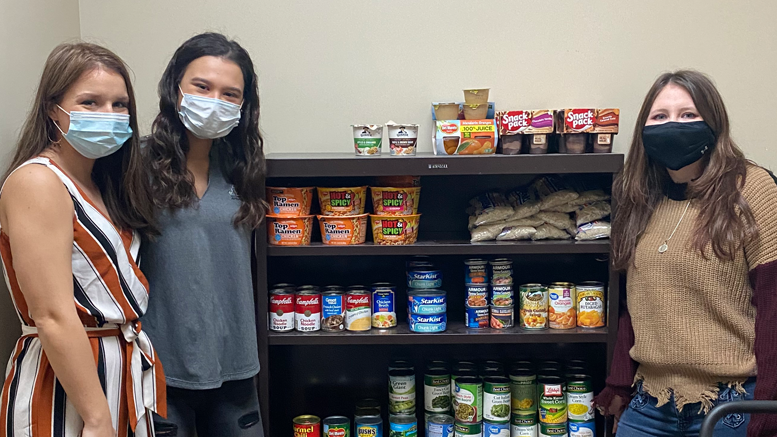 Success One Student at a Time
"During its first year, we had 10 to 20 students use the food pantry. This may not seem like a lot, but if we help just one student, we are a success," says Abel. "The Grenada Campus is the only campus with a food pantry as of now. Our goal with this pantry is to help as many students as we can. We know that times are tough, and students may be going through difficulties that we know nothing about. But, if we can help them in one aspect of their lives and offer this service, then that will help take them one step closer to achieving their goals."
Felker encourages other chapters to look around your communities. "The needs are endless, when we look below the surface. We all need to be challenged and to get out of our comfort zones," she said. "You may make a difference that is like a rock thrown into a pond. Just look and see the ripple effect it may have."
Recognizing Community Needs in Your Town
What can you do in your hometown to bring awareness and find answers for community needs?
Call schools or universities in your area to ask what they may need
Contact the PTA for details on upcoming donation drives
Determine if Feeding America supports a nonprofit near you
Start a WoodmenLife Impact campaign to recognize community needs in your own town
Think about your strengths and how to use them to help those in need
Many of us view food as a reward for a winning team, treat for meeting a goal, or afterthought on a busy day. For those ensuring everyone gets a chance to nourish their minds and bodies, we thank you. No matter our age, gender, economic class, or race, it's in our blood to nourish our body with wholesome food to stay safe, healthy and productive. Many are safe, healthy, truly thriving because of others' willingness to remove learning barriers and identify community needs.